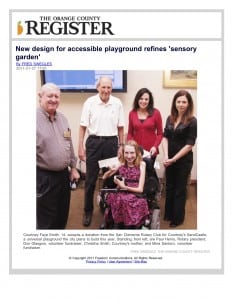 San Clemente Rotary Club donates $6,000 for two playground benches
By FRED SWEGLES
Supporters of Courtney's SandCastle, a universally accessible playground to be built in San Clemente, are looking for financial help to get it completed this year – not just the first phase.
Fundraisers Mina Santoro and Don Glasgow unveiled a redesign Wednesday that reduces the scope of a "sensory garden" pegged for Phase 2. They now hope to include it in the playground to be built this year as part of a 45-acre sports park under construction along Avenida Vista Hermosa.
In the new design, Phase 2 would cost $286,000, Glasgow said. On Wednesday, the San Clemente Rotary Club gave $6,000.
Glasgow said his group has more than $80,000 in bank deposits and receivables, with more pledges in process. "We would like to fully fund the total amount," he said. "But realistically, we will need help from the city, too."
The playground is named for Courtney Faye Smith, a San Clemente girl confined to a wheelchair with spinal muscular atrophy. In 2001, when she was 4, adults in her life began searching south Orange County for a place to build a playground where Courtney could play with children with and without disabilities.
The project has taken multiple turns as Courtney grew. She is now 14. Last year the city agreed to fund Phase 1 but decided the original design for Phase 2 was too costly. The new design reworks it.
Santoro said the sensory garden is designed to have musical panels and interactive structures for children to see, hear and touch as they make their way through a maze to a marble ball with trickling water. Also planned are wind chimes, an interactive water wall and a simulated tide pool.
The park's universally accessible features are intended to appeal to all children. Santoro said Courtney's SandCastle also could appeal to wounded military service members returning to Camp Pendleton, offering them a place to take their children in a fully accessible setting.
Santoro and Glasgow said a new charitable foundation is being formed for Courtney's SandCastle. Meanwhile, anyone interested can visit www.courtneyssandcastle.com to buy a personalized glazed tile for a tax-deductible $100 donation. The tiles will be installed at the playground.
WHAT'S NEXT The Courtney's SandCastle support group plans to present the revised design to the San Clemente Beaches, Parks & Recreation Commission on Feb. 8, seeking a positive recommendation to the City Council. Meanwhile, fundraising continues.